Blackout Blinds provide a light proof seal for darkness at any time of the day. Providing complete protection, our collection of Solstro and VELUX Blackout blinds banish the sunlight to keep your room shaded whenever you need it.
Both brands are of a high quality and with a range of colours and patterns available, are the ideal choice if you're looking for a blind to compliment your room and block out that daylight.
Blackout blinds are not only ideal for bedrooms, but are great for rooms you wish to have a level of privacy in.
The VELUX Blackout Roller Blind offers a lightproof seal for total darkness at any time of the day. It's ideal in bedrooms, where you need complete light control to ensure a good night's sleep or a restful nap during the daytime. This product also has a thermal aluminium coating on the back of the blind which reduces heat gain and loss.
Available in over 20 different colours and patterns, with a stepless positioning operation functionality. They perfectly darken any room at any time of the day, no matter which colour you select. Choose a design that compliments your style and your rooms interior the best.
The VELUX Blackout Blind is not only available in manual operation but can be selected in an electric or solar powered. Great for extra comfort and out of reach windows (remote control included). Also compatible with the VELUX Blind Adapter and VELUX Telescopic Rod.
All manually operated interior VELUX blinds are very simple to install with no measuring or cutting required. The VELUX Blackout Roller blind can be installed with ease using the VELUX innovative installation system. Full install guides will be provided within the packaging of your new blind.
VELUX blinds will come with a 3-year guarantee.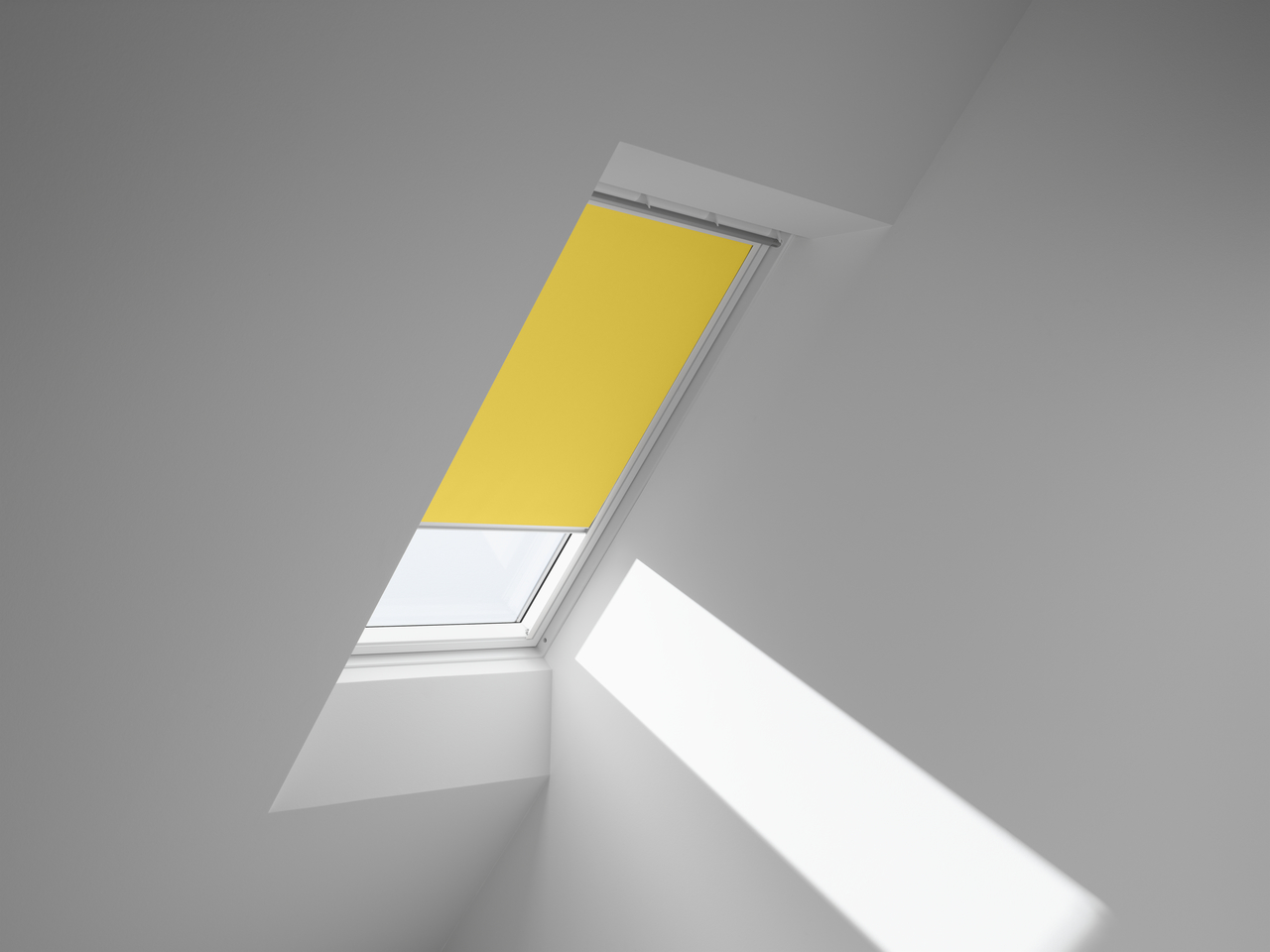 Solstro' s blackout blinds deliver an almost blackout effect to your bedrooms, so you have the perfect environment for a good night's sleep. You can even use the blinds to turn day in to night for napping during the day. Solstro blackout blinds are useful if you're working on a monitor or watching tv and want to block out the direct sunlight.
Solstro Blackout Blinds are multi-fit meaning they can fit a variety of different brands and sizes. The brands we're familiar with are VELUX, Solstro, Dakstra, Dakea, RoofLITE and Fakro.
These blackout blinds are available in white, grey, dark blue or beige and come with a 2-year guarantee.
An easy to install blind that can be installed in less than ten minutes with a screwdriver. Detailed step-by-step instructions are included with every blind.
This blind is most suited to windows that are within reach as unfortunately, there is no additional accessories to assist in opening the blind if the window is out of reach.